Quintin's Quandary
Edit
This is a unique coin-based game and one of creator Cliff Johnson's "because the answer is simple, yet appears quite the opposite".[1]
The instructions state:
Each Coin has Two Sides
Click Two Coins to Reveal their Opposite Sides
The Goal is to Remove all the Coins
The Correct Strategy has 100% Accuracy
Locate Two matching Face-Up Coins
The Click these Two Coins and they Flip
Now Click the Two Coins that Reveal that Same Match again
If you Succeed, those Coin Faces Vanish. If not, you may Gain another Coin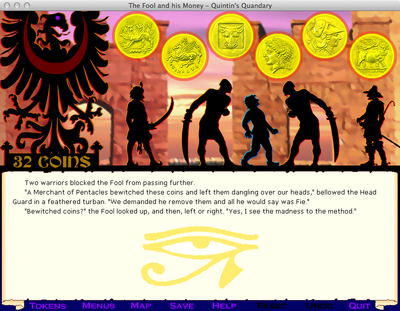 Simple Hints
Edit
When clicking two matched coins, a specific sound is made. The "correct" two coins must then be clicked to have the coin count reduce.
The online help says: Re-read the story and look for clues.
More Hints
Edit
"Bewitched coins?" the fool looked up, and then, left or right. "Yes, I see the madness to the method."
Desperation
Edit
See: Quintin spoilers